With my iMac approaching senior citizen status, I decided it was time to look for a new setup. While it works fine for most day to day task, as my professional life keeps evolving I find myself editing more and more video mixed with animations. So, I needed something that could reliably handle rendering in 4K, run all the creative apps smoothly & had a decent display.
There were two main questions I had to figure out: Do I want to continue with Apple products or switch to PC, & do I want to stick with a desktop or laptop as my main machine. *Flashback – Up until my final semester of college I had a black MacBook (pro?) and I loved it. The freedom to move around helped to keep things fresh and fluid. But with the flexibility came the lack of raw processing power. A whole new world opened up once it was time to retire my MacBook I switched to a 27″ iMac. The difference in performance was immediately noticeable and since then I haven't owned a laptop.
*Fun Fact – My laptop exploded two weeks before my senior portfolio review/show.
Fast forward to 2020. Countless hours sitting at a desk and my back is over the torture of desktop life.
Specifications
PROCESSOR | 9th Gen Intel® Core™ i7-9750H 6 Core (2.6GHz/4.5GHz)
---
GRAPHICS | NVIDIA® GeForce RTX™ 2070 with Max-Q Design (8GB GDDR6 VRAM)
---
DISPLAY | 15.6″ Full HD 144Hz, 100% sRGB, 4.9mm bezel, factory calibrated
---
STORAGE | 512GB SSD (NVMe)
---
MEMORY | 16GB Dual-Channel (8GB x 2) DDR4 2667MHz (You can upgrade yourself but it'll void the warranty)
---
DIMENSIONS | 0.70″ x 9.25″ x 13.98″
---
WEIGHT | 4.74 lbs
Build Quality
Let's just get it out of the way…Yes, this looks like a black MacBook pro….Yes, that's partly why I got it. The design of the 15″' Razer played a huge part in my purchase. While the surface lineup is beautiful, minimal & touch enabled, they lack the raw power that I needed for various tasks, or they weren't compatible with apps that I need to make a living *cough* Pro X *cough*.  The Razer in all variations have aluminum uni-bodies which gives it a solid and clean aesthetic with no visible screws or bolts.
As someone with partial OCD the main drawback to the appearance of this laptop is the finish. While I love the matte finish it has slowly become the bane of my existence due to the way it shows scratches and smudges so f*ckin easily. I'm going to keep comparing this to a MacBook pro because: 1) that's what most people are familiar with & 2) it's pretty much a sexier clone of it minus one or two glaring issues. So let's get the most obvious issue out of the way…what the actual fc*k is with the placement of the arrow keys & the right shift/fn button?
This is primarily marketed as a gaming laptop. Point blank. You get the full RGB backlit keyboard which is fully customizable or can be disabled to preserve battery life. Nice touch if you're into personalizing your tech to match your brand or want to look cooler than you are.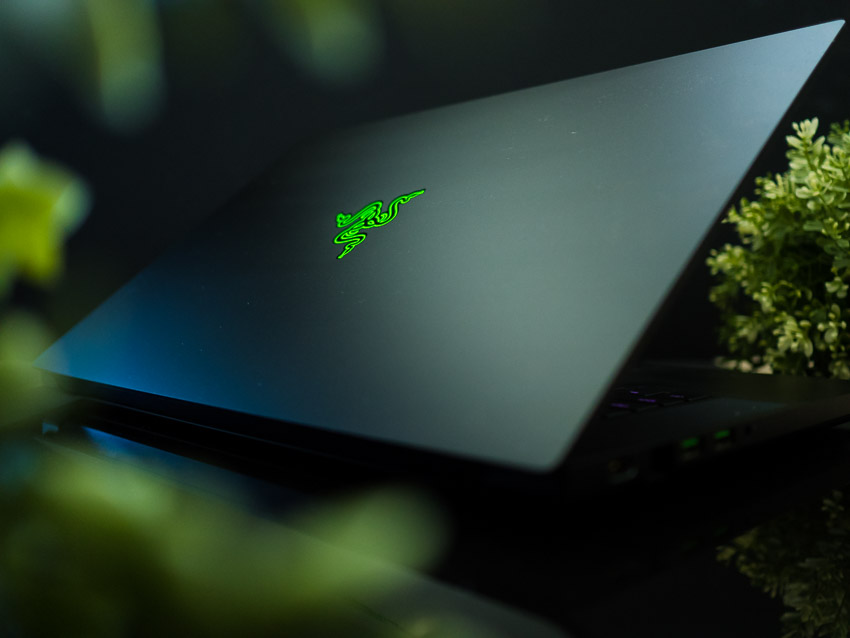 ---
Performance
Like any lineup there are offering at various price points to match everyone's needs & budgets, and since ya boy isn't rich I decided to go with the 2070 variant. This falls right in the middle of the 2060 base model and the 2080 max Q model. With that you give up a fraction of the performance and keep a few extra dollars in your pocket to spend on peripherals or beer.
To help manage some of the hardware the Synapse app allows users to customize the laptop to suit their needs. One of the main this you can do is select one of three profiles based on the task you're performing. The Creator profile gives a boost to programs that are more CPU-intensive like Premiere, After Effects, Photoshop, etc. The Gamer profile prioritizes programs that require more from your graphics card. Lastly Balanced does exactly what it says… By default, your computer is in balanced only switching to the other profiles IF you're plugged in, which can be slightly annoying if there aren't any outlets around. Can you still run programs smoothly or games? Yes. Will you notice the difference? Yes.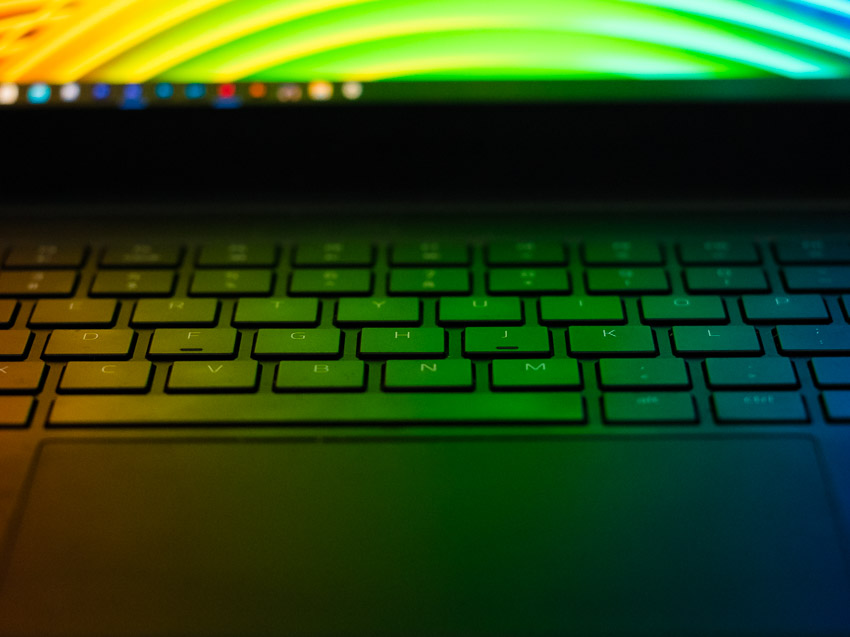 Using EFT (Escape from Tarkov) as a benchmark, while in the balanced mode you'll average around 40fps even with the settings rendering on the lowest levels. However, once you switch the gaming profile you get an immediate boost to 60-120fps with the same settings. Other games like Overwatch, EA (whatever), & CoD have similar results using medium to high settings.
In Creative mode almost all of the Adobe programs run smooth as butter. Even without changing the RAM settings in Photoshop and editing a project with 60+ layers, there was almost no lag in response time. The same for Lightroom, Illustrator, InDesign (not really that labour intensive but still) & XD. You'll only start to get mixed results once you start using the more CPU intensive programs like After Effects, Premiere & Animate. If you're trying to edit and render 4K footage in real-time, this isn't the model for you. The 2080 variant would be more up your alley. But playing back 4K footage is still bearable.
---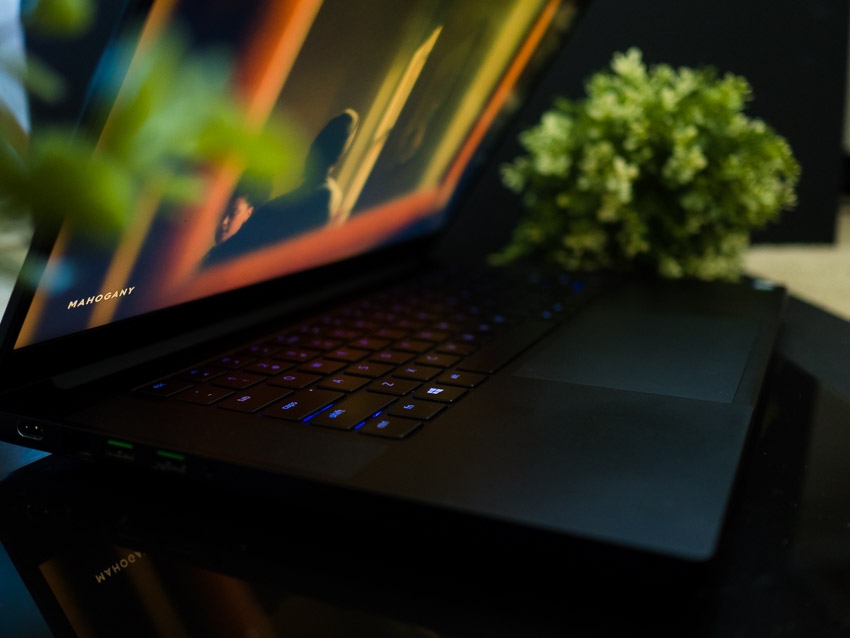 Overall:
Pros:
Beautiful design
Beastly performance for the size and cost
Various profiles offer drastic improvements based on your needs
Large & vibrant display
Speakers are actually pretty clear and full for laptop
Can customize to fit your personality
Cons:
Expensive as a mother
Matte black = Smudge magnet so just go with the silver or get a decal
Battery-life is average to sh*t depending on what you're doing
Colours aren't as accurate as other displays
This baby gets loud AF in creative/gamer profiles
You must be plugged in to activate system profiles